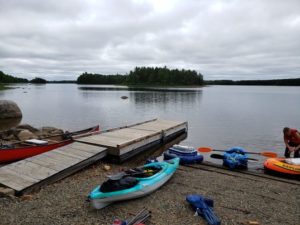 Great canoeing rides await you on the St. Croix River. There are plenty of campsites along the river and a few access roads making one, two or three day trips possible.
A good one-day trip is to Scotts Brook, a two-day trip is to Loon Bay and a three or more day trip is to Grand Falls.
If you're looking for a little more adventure, canoeing the rapids at Little Falls will provide a good ride in a canoe or kayak.
The river offers a great variety from gently flowing waters to the exhilarating ride across the rapids at Little Falls.